Technology for water treatment

EuroCon, in cooperation with technology partner Boson Distribution SE, leases the unique EuroCon Water technology for water treatment and harmonization, which uses electromagnetic fields to change the structure of water and thus alter its physical properties.
---
Introduction of technology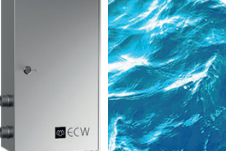 It is an innovative technology that can be used to save energy and operating costs, but also to provide quality drinking water directly from the tap.
EuroCon Water is installed on the water supply, can be installed on the by-pass or directly on the pipe. The device consists of an actuator and control electronics with a power supply to simulate solar radiation with the self-healing capabilities of water in nature.
Depending on the individual requirements and needs of the client, EuroCon offers several rental options for the EuroCon Water device. Clients are thus offered different types of EuroCon Water facilities, with different rental periods and different rental invoicing frequencies.
Effects of technology
removal of chlorine, antibiotics, hormones, pesticides and other chemicals from water
elimination of living biofilm ("slime") in the pipes and prevention of its reoccurrence
softening the water and reducing limescale deposits while preserving the minerals in the water
reduction of maintenance costs for pipes and water-related appliances (coffee machine, dishwasher, kettle)
the creation of a healthy living environment that is unsuitable for the re-propagation of micro-organisms in the water
tap water has a significantly better taste and properties of mountain spring water
EuroCon Water technology will change the properties of tap water, fully replacing barrel and bottled water and reducing your employee drinking costs.